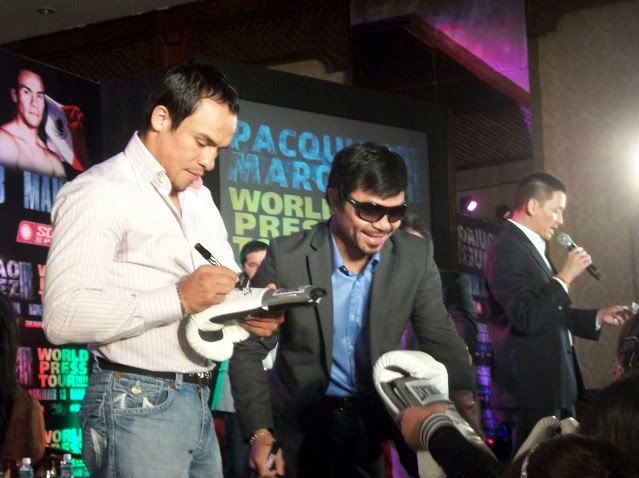 As the cliche goes, "it ain't over 'till it's over".
And so, with one fighter willing to pad up his already-legendary status and another about to make, perhaps, his final stand inside the squared circle, a third bout between Manny Pacquiao and Juan Manuel Marquez is given one last go.
To kick off their four-city whirlwind tour to promote the November 12 fight, Manila held serve.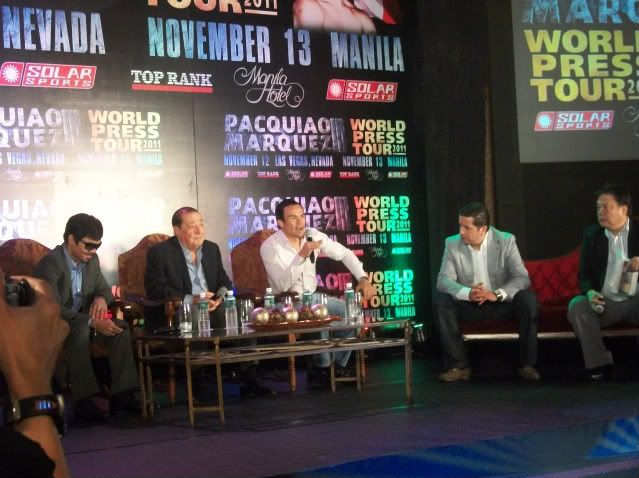 This weekend, the Philippine capital was abuzz with all the Paquiao-Marquez hype. Not surprising, given the fact that this was the very first time that a boxing press tour of this caliber took place in the country. Busy Saturday started with a sit-down press conference with mediamen at the Manila Hotel.
The photo above shows Marquez, better known as "Dinamita", addressing his stand to the ultra-attentive media audience. What was his stand? According to JMM, he (and all of his 37 year-old frame) is still the only fighter in the world who can stand toe-to-toe with the "Pacman".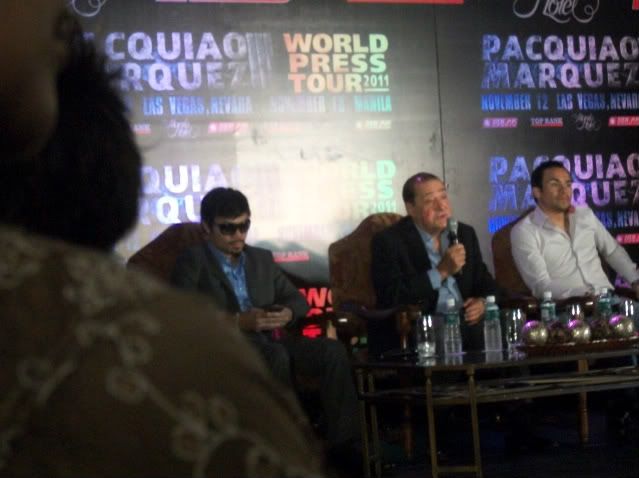 Not-so-attentive was the fighting pride of the Philippines. Having woken up a bit late for the press conference, Manny Pacquiao is shown here with both framed eyes on his BlackBerry (texting? tweeting?) while Top Rank boss Bob Arum answers some questions.
After the Q&A, both fighters stood next to each other in front of the stage and was given boxing gloves. For an impromptu fight, perhaps?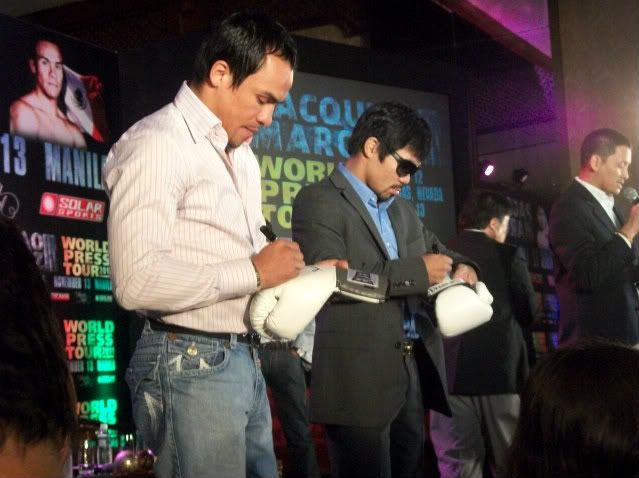 Unfortunately for me, the chance of seeing the actual Pacquiao-Marquez bout right then and there went kaput. The gloves were for the fighters to sign and then to be raffled off to some lucky... scratch that... VERY LUCKY mediamen in attendance.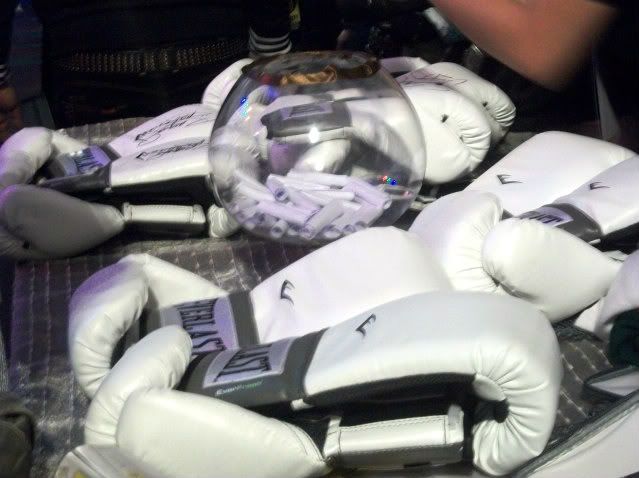 This I can say: Juan-Ma, as well as the small Mexican contingent present was well-received in what whould have been considered as "enemy territory".
A few hours later, the Pacquiao-Marquez Action spilled outside of the Manila Hotel and into the jam-packed Quirino Grandstand. Here, the thousands in attendance were treated to variety show, with song and dance performances featuring popular Philippine celebrities.
But, undoubtedly, the biggest stars of this weekend were these two warriors.
Another Q&A was set up. Here's Manny addressing the adoring crowd. Later, he'd challenge Marquez in a basketball game, particularly if the third fight ends in controversy. After which, Pacman proceeds to promote his game show "Manny Many Prizes", which had a live broadcast here to cap the festivities.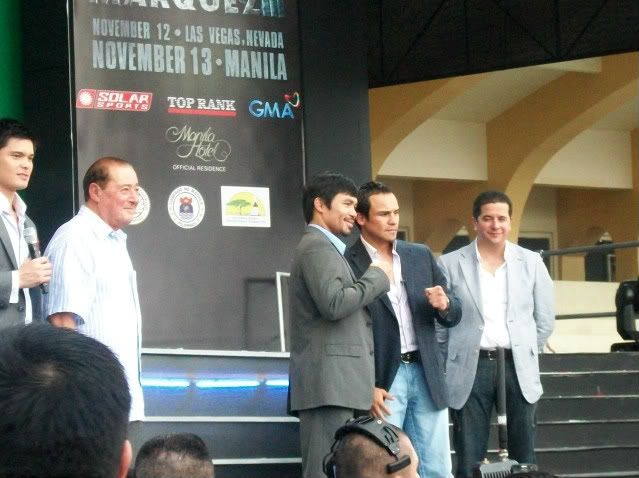 All in all, a great way to kick-start this return bout. While I never hid my skepticism with regards to this match (I thought JMM's counter-punching has diminished), seeing both Pacquiao and Marquez in the flesh made me believe that there's definitely something to look forward to in November.