For a moment in time, they were kings.
Some were box-office action heroes. Some were revered fighters, gutting it out inside the dreaded squared circle. They were warriors and superstars as well. With millions of dollars on hand, not to mention a solid public following, they were men who made other men green with envy.
But that was then. Every legendary feat that these men created during their heyday, all but gone. With the their careers rapidly evaporating amidst the surge of romantic vampires and three-dimensional quasi-monsters, the brave but aging collective got together and made what, perhaps, is their one final shot at Hollywood success.
One last ride to relevance.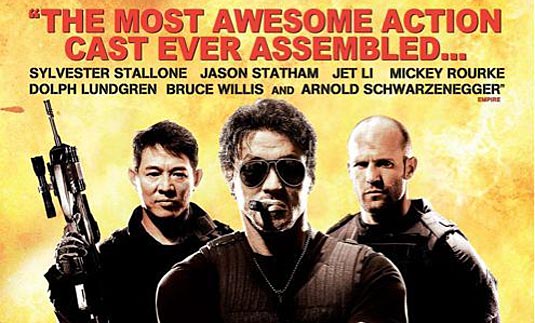 A tribute to the glory old action movies of the 80's and 90's,
The Expendables
boast a veteran-laden cast that should make every manly man's testosterone levels explode.
Sylvester Stallone
directs and stars as Barney Ross, leader of an elite team of Mercenaries.
Jason Statham
,
Jet Lee
, UFC star
Randy Couture
(who KO'd
James Toney
just yesterday),
Universal Soldier
vet
Dolph Lungren
,
Mickey Rourke
and funny man
Terry Crews
join Stallone as they try to overthrow the leader of a fictional island, Vilena.
The mission didn't come easy, however, as Vilena's dictator was backed by savvy ex-CIA agent James Monroe (
Eric Roberts
) and his right-hand man Paine (
"Stone Cold"
Steve Austin
). From there, you can count the bloodshed, the explosions, the karate kicks and the wrestling moves. Not one bullet was spared in this flick, and it's all made in good HGH-infused fun.
What stood out for me in this film? Hmmm... there were many: Steve Austin punching a lady, seeing
Bruce Willis
' Mr. Church character for about 6 mins (in a Church scene no less),
Arnold Schwarzenegger
's 2-min apparition in that exact same sequence, Mickey Rourke painting roses on a guitar, Jet Lee asking Sly for a pay raise, Statham being dumped by his girlfriend, Dolph Lungren dying *spoiler* and then inexplicably coming back to life *spoiler*. Clearly, the film was a mess. Not a bad thing, as it was very much expected from the moment the opening credits rolled.
Despite Stallone's limited skills on the directorial front, The Expendables was a joy to watch, though not as a film altogether. In more ways than one, it was a celebration of the glorious past of action cinema. So it was an ego trip. So it was sort of a conference among has-beens. Number one film on opening week? Box-office numbers don't lie. Whatever appeal The Expendables left upon the viewers, it's crystal clear that these former kings revved it up and took this one on the road.
The verdict
: was it a bad film? Yep. Was it enjoyable? Hell yes!
3.5 stars.